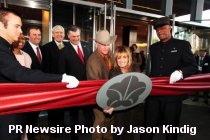 Pops of art everywhere your eyes land. The Omni Dallas Hotel opened with the typical ribbon cutting. All of the usual suspects, including the Dallas Mayor Mike Rawlings, were present basking in the sunshine on a warm autumn day. The opening was teamed with the honoring of veterans from four wars on the 2011 Veterans Day. Big thanks went out to the over 150 artists who contributed to the over 7000 pieces of original art located in the 1001 guest rooms and the numerous public spaces during the speech from Jack Matthews, President, Matthews Southwest, the project's developer.
Impromptu Artist Reception and Show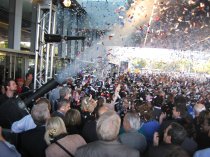 Gusts of compressed air blew thousands of one-half inch feather-light red, blue and white paper in the air. The doors opened and hundreds of excited attendees poured in through the glass doors. Nearly 600 friendly and helpful hotel staff members greeted the crowd taking in the posh environment. Art lovers with special invitations headed straight to a third floor ballroom for the impromptu artist reception and show.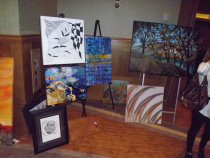 Over 100 additional pieces of art was everywhere, on matte silver metal easels, propped against the walls, and resting against the front two of the three pronged easel legs. Also at eye level were towers of flutes of bottomless champagne, water, and Starbucks coffee to accompany dozens of bite-sized sinful desserts. This was all against the backdrop of a soulful piano soloist at the north end of the ballroom and two dynamic, experienced, physically fit aerial performers at the south end wearing matching cherry red catsuits.
Omni Art Importance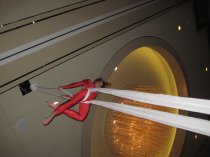 The artists were energetic and buzzing in and out of the ballroom entrance showing interested viewers the locations of their art throughout the hotel. Some were unsure of the placement due to last minute changes. Overall the artists were proud to have their works in the Dallas Omni at the convention center. One big wow is that the Dallas Omni hotel gives natives and travelers a rare opportunity to purchase art by local artists in a single location. The Dallas Omni hotel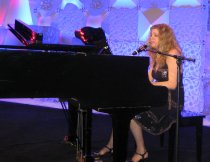 offers a limited art exhibition every moment the doors are open. A fuller experience requires a room key and at least an overnight stay. A lot of the art is for private viewing in the more expensive rooms.
Marketing Advice